Carlos Michelis
The country is shocked after the press release of the kidnapping of the President's daughter. Little information has been disclosed by the Government. However, some sources speculate that Alfredo Mafioli, known businessman related to high-tech weapons, would be involved in the kidnapping. Apparently, it would be a reprisal against the President, who cancelled a weaponry contract signed between Mafioli and the Government.
In a society without justice and corrupt security forces, the President foresaw only one option to rescue his daughter and send Mafioli to jail: recurring to a strong man, clever and incorruptible, completely commited to the justice and able to apply it swiftly. This only hope is named Carlos Michelis.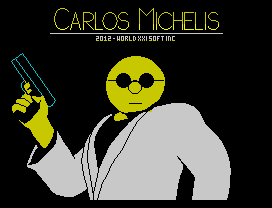 Features
- Action / adventure combination with puzzle and strategy flavors.
- Compatible with Spectrum 48K y 128K.
- Music composed by Kulor, FrankT and Factor6.
- Aerial view with fast-paced multidirectional coloured scroll.
- Multiple weapons: pistol, machine gun, rocket launcher.
- Hundreds of screens in three different scenarios.
- Double graphic engine (48K and 128K), with giant articulated sprites technology and light effects.
- Multiple missions and endings.
- Cinematic intro.
- Language selection: Spanish, English and Russian.
- Control options: Redefinable Keyboard, Kempston, Cursor, Sinclair.
- Option for selecting 48K or 128K sounds and adjust sound and music volumes.
- Option for loading expansion sets.
Purchase
In order to download this game you must purchase it at or above the minimum price of $5 USD. You will get access to the following files:
Carlos Michelis - Mansion 2018.zip
29 kB
Carlos Michelis 1.1 +3.zip
1 MB
Download demo